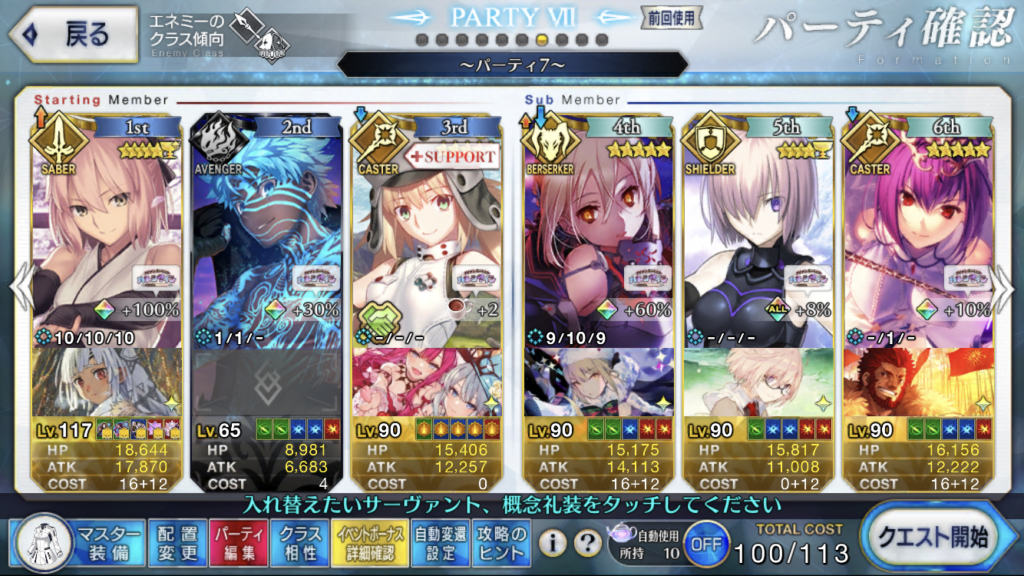 JP
Event done! …kind of. I cleared challenge quest using the team above and practically no strategy. I probably should at least attempt something like this or this but I have no apple and raising buddy rank requires a lot of farming.
That said, with no debuff from enemy party and the NP being single target, everyone is having their field day trying various ways to clear this. If only the event is slightly longer (or the CQ is unlocked earlier).
As for farming, I still need 800k points and 600 bronze event currency. I tried not using apple but I ended up using some and will probably need a bit more.
I managed to not roll more and only did some paid rolls. Still no Bazett though. I don't think I'll do any more paid roll until at least next year (assuming I still play this by then).
NA
As I guessed yesterday, they shuffled events around with hunting quest starting tomorrow. I'll just farm with natural AP as I'm still saving apples and don't exactly need any of them at the moment. Except for ice crystals but I only need two of them so it should be easy.