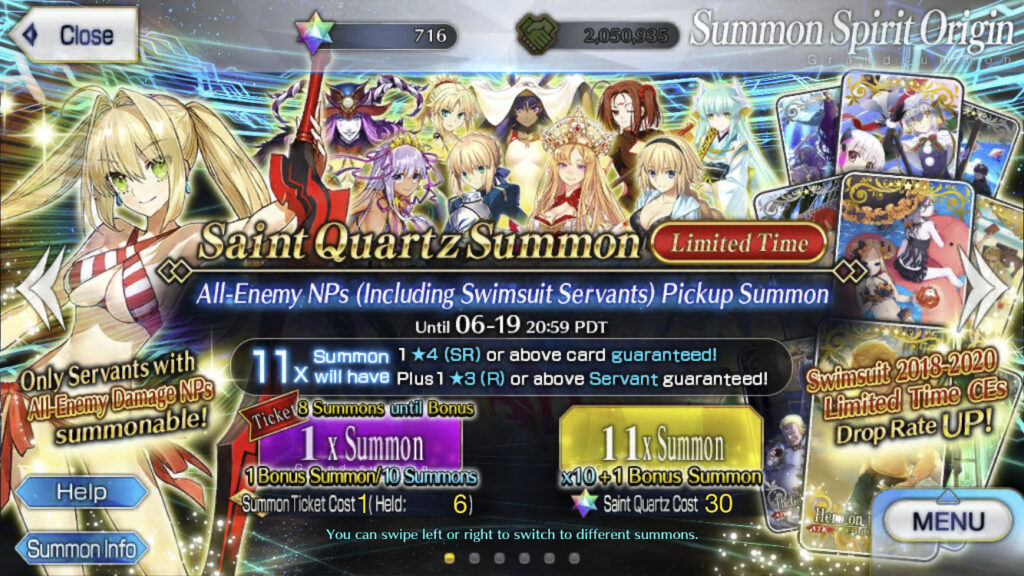 JP
More nothing week. Holmes got powerup of questionable usefulness. Siegfried got one as well and way more useful. Mine is still at skill level all 4 and I don't think I have enough mats to level them up.
Otherwise nothing particularly interesting. No rerun announcement or anything either. Maybe they'll just start something next Wednesday? Otherwise it'll just be more dead weeks until new event end of this month.
NA
Summer rerun ending in few hours. I didn't end up trying other comps for challenge quest and just cleared it with Merlin solo.
On other hand, using up the fever tickets took some time. It didn't help the quest can't be cleared in three turns. At least it netted me a lot of QP with no AP consumed so that's nice.
There's that very baity banner of area NP servants above. I rolled one for lulz but practically no one should roll this banner unless they're very desperate and have a lot of SQ.
Coming up next (after Hunting Quests?) should be Seraph Main Interlude. I'm not rolling anything but the detour quests will be fun.