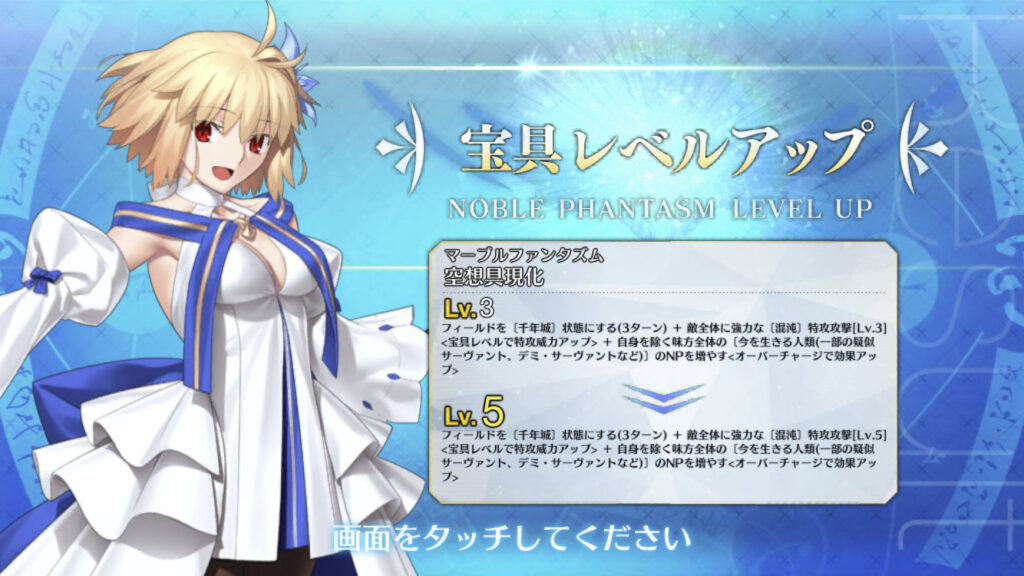 JP
Still anniversary week. The major update after the announcement is of course the daily strengthening quests. There's surprisingly different types of NP charge this time around. One is just straight out 80% (Jekyll). One is of the usual type 30% (Medusa Lancer). One is of the… weirder type of charging 30% self but also decrease 10% target (Shiki). Which is kind of nice since it means she got what effectively 20% charge when solo and 30% charge when there's a sacrifice available. And lastly the unexpected one, 10% party charge (Bartholomew, Touta).
The party-wide one is rather nice for some servants since it can round up the missing 10% when having 50% CE + 20% self + 20% append setup.
The new party buffs are nice as well.
Too bad Geronimo still isn't getting his power up.
On the other hand, as per screenshot above, I ended up with NP5 Arcueid. After the last post, I decided to roll a bit more and she came up again after 43 rolls. Feeling weird, I went all the way with 124 more rolls for her 4th copy, and lastly I decided to go all out and thankfully got her after 91 rolls. RIP my summer. I have a bit over 240 sq and 16 tickets at the moment. I hope those will be enough. Probably not. Oh well.
With that, I also decided to get her to 120. Except I don't have grail. Or exp cards. Or QP. The last two can be managed somehow but the first one is quite a lot more difficult (or just takes time).
Along the way I also got a bunch of SR servants. Nothing particularly interesting though. And I didn't get any other SSR.
Next Wednesday will mostly likely be the start of summer event. The rumor has it that there will be 3 new SSR servant this time around. We'll see.
NA
Ooku has started. It's a pretty long event in term of missions and nodes. I think I'm almost halfway through it. I just need to make sure to complete it before it's over (duh).
After that, it should be some kind of DL campaign. No idea if they'll reach some milestone but I'm still hopeful for the skill animation speed up.
And then it'll be box event time. With bones and proofs it's a quite useful one. It's also the first one which final node drops all shop currencies as well so I just need to do that instead of going through three different nodes to collect them all. I don't know what comps I'll use but I'm sure I can conjure up something. At worst it'll be another plugsuit team.