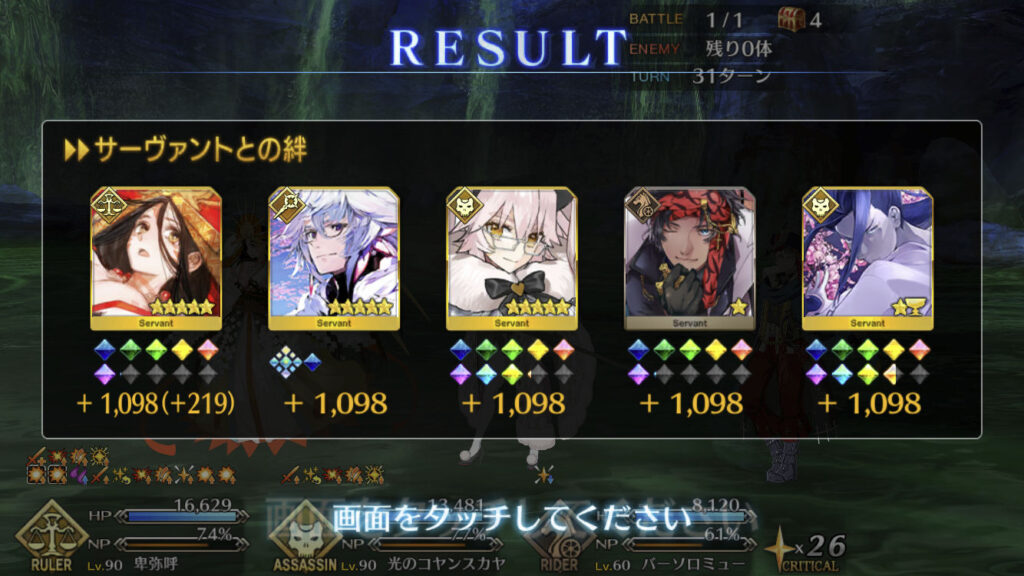 JP
Done with New Yamataikoku. Or at least the quests and stuff. All that remains is farming till drop.
The highest difficulty farming node this time is quite something. I can barely stably farm it with Morgan (NP3), Koyanskaya of Light x2, and Oberon. And the strategy varies based on first turn cards – in the worst case it may take at least three turns. The reward is pretty useful though. I need quite a lot of some of the mats (fangs, fluids, seeds, medals, and hearts).
The challenge quest, as usual as of recently, was done in lazy mode. It's the usual Himiko, Castoria, and Merlin team. It's kind of crazy how stable this team is. I did fuck up a bit at the end when aiming for damages to clear the last few bit of first bar. Thankfully the second bar is very easy to clear up. The fuckup was probably even helpful as the enemy steals def buff on bar break and there were none at the time.
As per recent trend, the event will still be up for quite some time. Don't know how much apples I'll use here but I still need to save some for actual box event. I need a lot of skill stones of all rarities and classes.
NA
Also finished Yamataikoku here. I didn't end up farming as much as I wanted partially because of the lack of skill animation speedup and partially the enemies are down quite a lot faster than I wanted. I guess NA is still alive and well.
Cleared the challenge quest with exact same team above lol. I wondered if the class disadvantage matters but it didn't. Yay.
Unlike JP though there is nothing left to do on the event so I cleared Olympus. Also with the same team above for some of the more difficult quests. I finally cleared the Zeus quest with something other than solo Mash.
The event will be ended next week but there's no hint of what will come up next. If following JP it would be Christmas rerun…
I still have no idea how the schedule will work out for the remaining of this year.